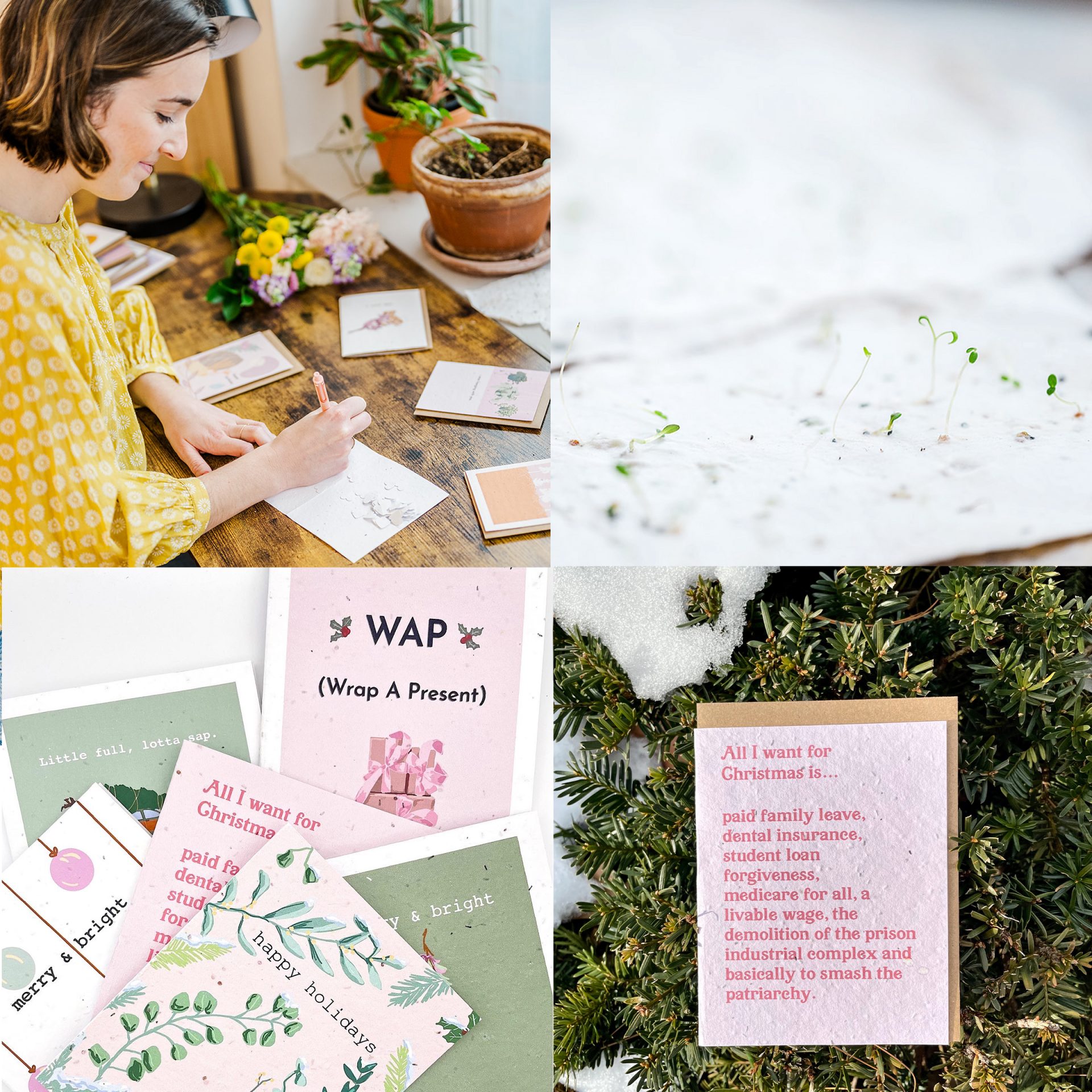 Cato & Company
Cato & Company make paper goods with an aim to inpsire connection, community and thoughtfulness towards a more sustainable future. Seed paper cards are made from 100% post-consumer fiber, and embedded with a seed variety of 6 North American, non-invasive and bee-friendly wildflowers. They grow when planted in a pot or soil. 1% of our profits go towards climate action organizations. It is our mission to turn thoughts into actions, and words into wildflowers.
Discount: 10% off all cards, use coupon code: HOLIDAY10
Shop!
Crafty Mama By Alicia
I specialize in custom gifts. Custom wine glasses, coffee mugs, ornaments, shirts and more!
Discount: 20% off, use coupon code: TWENTYPERCENTOFF
Shop!
Kindred & Co.
Kindred & Co. is a paper goods company designing products to help individuals live everyday with intentionality; as human beings, not human doings.
Discount: 15% off using code: 27TEAS
Shop!
Knitfully Yours
Modern and trendy hand knit products made from sustainable yarns! Tons of stylish beanies and ear warmers for everyone on your list. Get matching Santa hats, family stockings, coffee sleeves, or decorative rainbow pillows to give as gifts. We have something for everyone on your list this holiday season!
Discount: Free Shipping using code: HOLIDAY2022
Shop!
Vivi & Kay
Vivi & Kay hair accessories were created with comfort and style in mind – no more bad hair days!
Discount: 25% off with code: 27TEASMARKET
Shop!
Winnies Socks
The first U.S. patented slipper socks designed to be worn indoors or outdoors!
Discount: 15% off with code: Holiday22
Shop!
Humble Oak Consulting
Join Humble Oak Consulting for a Full Moon Getaway Retreat. Each day consists of mindfulness exercises, guided meditations, individual reflection, deep listening, small group work, outdoor exploration and connection to nature and healthy and delicious food to help you increase self-awareness, find clarity and confidence, and align your passions with your purpose. Whether you need to recharge, reinvigorate, retool, or reinvent, we're ready for you. Join us!
Discount: Discounted registration price (Regular Price is $675, but with the discount it will be $525 for holiday shoppers) Use code: HOL22
Shop!